On Wednesday April 27, 1870, 62 people were killed and 251 were wounded in a tragedy reported across the nation. The floors of the court room and clerk's office of the Supreme Court of Appeals of Virginia, located in the Capitol building, collapsed taking a crowd of about 350 men with it to the floor 25 feet below.
In an effort to create more space in the crowded capitol building, a floor was erected over the hall where the House of Delegates met. It was in this second floor that the court of appeals was held. In doing this the architect, instead of inserting the floor-beams in the walls, rested them upon a slight ledge, or offset, projecting about four inches from the wall.  This frail ledge was made to support timbers measuring two feet by ten inches, assisted by a row of pillars in the hall below.  This was probably sufficient for ordinary use, but a few years previous to the disaster, in order to improve the appearance of the Hall of Delegates, the pillars were removed. Despite a definite concavity of the floor the space continued in use.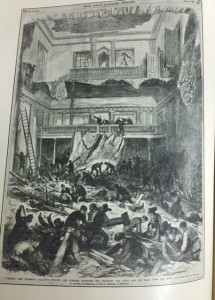 So on the fateful day in April, a highly contested Richmond Mayoralty Case was to be heard. A large audience was packed into the courtroom to hear the proceedings. Only one judge was in his seat and the bells had just struck 11:00. Suddenly, a large girder broke in half, the floor sagged loosening the supports on the ledge and it all plunged down carrying everyone with it. The Fire Department and numerous volunteers spent hours digging through the debris and carrying the dead and wounded out under the trees for recognition and treatment. On the day following the catastrophe many of the dead were buried and businesses were closed.
If you would like to learn more about this, The Capitol Disaster (Special Collections F234.R5 C61) by the Hon. George L. Christian, a survivor, is full of first hand information.