Still I must have known,
Something in me told me,
Flight would first be flown….
Off these sands of time.

~ Robert Frost, "Kitty Hawk"
On December 17, 1903, at Kitty Hawk, North Carolina, the Wright Brothers achieved success in their desire to fly. The Wright Flyer was the first powered, heavier-than-air machine to achieve controlled sustained flight with a pilot aboard. Having moved to Richmond from Dayton, Ohio, home of the Wright Brothers, I was delighted to discover "Kitty Hawk" by Robert Frost tucked away in our rare book collection.
This little gem of a book was published as one in a series of Christmas keepsake booklets produced by the publishing firm of Henry Holt and Company. Using Frost's poem, "Christmas Trees," in 1934, Holt began an annual custom of sending Robert Frost Christmas booklets. With the exception of the war years of 1939-1944, the Frost/Holt holiday booklet tradition lasted from 1937 until 1962. Although sometimes they used poems which had been previously published, Frost frequently created a new piece especially for the occasion. In 1956, Frost and Holt decided to use a previously unpublished work, "Kitty Hawk," for the booklet.
Four distinct versions of the poem are known to exist. The first one, at only 128 lines, was published as the 1956 holiday booklet. In November 1957, Frost published a much longer version, at 432 lines. The third version, which incorporated lines from each of the previous versions, appeared in the March 21, 1959, The Saturday Review. The final version, wedding old and new material, was added to his 1962 work, In The Clearing.
Frost was only 29 years old when the Wright Brothers flew at Kitty Hawk, and his interest in flying appeared periodically in his work, often referring to the brothers as "the Columbuses of the air." In his 1936 book, A Further Range, one poem was titled, "The Wrights' Biplane." Frost and Orville Wright were friends until Wright's death in 1948.
The poem itself actually documents an earlier visit to Kitty Hawk made by Frost in 1894, which is listed inside as a subtitle on the piece.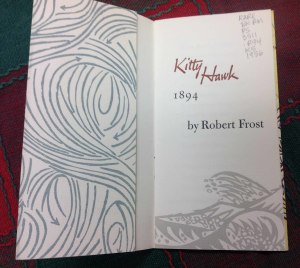 Frost described the poem in a 1959 interview published, along with the poem, in the 1959 The Saturday Review:
I've been gathering together the poems for the book. The main one is "Kitty Hawk," which is a longish poem in two parts. Part One is a sort of personal story, an adventure of my boyhood. I was down there once when I was about 19. Alone, just wandering. Then I was invited back sixty years later. That return after so long a time suggested the poem to me. I used my own story of the place to take off into the story of the airplane. I make a figure of speech of it: How I might have taken off from my experience of Kitty Hawk and written an immortal poem, but how, instead, the Wright brothers took off from there to commit an immortality….
With Frost's charming poem and woodcuts by Antonio Frasconi, the Holt booklet is simply charming. "Kitty Hawk" is housed in the Galvin Rare Book Room, and we hope you'll come and explore this unexpected and beautiful piece.