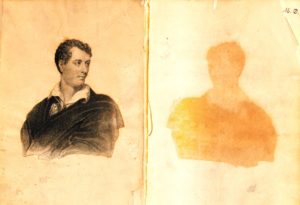 Boatwright holds a copy of Lord Byron's English Bards and Scotch Reviewers. "A satire," it says on the title page, "third edition…printed for James Cawthorn…1810."
As a cataloger for Rare Books & Special Collections, I set out to record everything I knew about our copy of English Bards: the edition, the publisher, the names on the bookplates. I began by looking for a catalog record that I could build on from among the millions of records shared between libraries. But the record that best matched the details of our copy—third edition, 1810, 85 pages—contained a phrase I had never seen in a record before: "may be spurious."
Spurious books, I found, are books "printed without the knowledge or consent of the author." Produced behind the author's back, they can often be forgeries or piracies. Knowing this, I suddenly wasn't sure which edition of English Bards we actually had. Was it the third? Was it not? And if I couldn't trust the details on the title page, what could I trust?
Answering these questions led me to three literary forgers: James Cawthorn, Thomas James Wise, and George Gordon De Luna Byron, introduced here in a series of three posts that tell the story of a forgery, later verified as such by a forger, who was himself the victim of a forgery.
James Cawthorn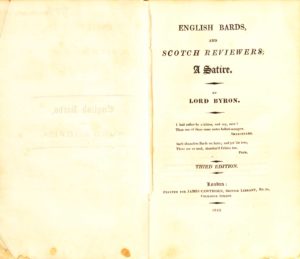 Byron began his verse satire, then called British Bards, while a student at Cambridge, but it took on new life and purpose when the Edinburgh Review humiliatingly panned his first book, Hours of Idleness. "As an author," he wrote, "I am cut to atoms." His revenge on the critics, English Bards and Scotch Reviewers, was published in London in 1809. It sold through four editions in two years.
By the time the fifth edition was printed and ready to sell, however, Byron saw the poem as a burden to his new, literary friendships: "I can only say that it was written when I was very young and very angry." He called for the suppression of all existing copies. But public demand ran high. In 1814 his publisher, James Cawthorn, offered Byron 400 guineas for the right to sell the fifth edition copies; again, Byron refused. Meanwhile, pirated copies were selling well. They had Cawthorn's name on them; some said "third" or "fourth" edition. But they were not printed in the original run of third and fourth editions, and at no point did Byron consent to their publishing. "I have to inform you that the First Edition of the 'English Bards' has been pirated in Ireland," wrote Cawthorn to Byron. "I have a copy of the pirated edition."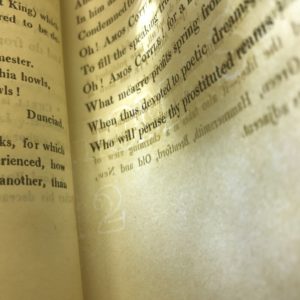 Long after both Byron and Cawthorn had died bibliographers attempted to sort through this "inextricable tangle" of spurious English Bards editions. They noted, for instance, that some copies of the 1810 third edition bore watermarks with dates after 1810. Reading this, I took up a flashlight, aimed it behind a leaf in our copy, and found exactly the kind of watermarks these bibliographers referred to. Our "1810" English Bards was printed on paper that did not exist until 1812. We had one of the many "poor counterfeits, at the best, of Cawthorn's work."
Who was making such poor counterfeits of Cawthorn's work? Some at the time felt it was Cawthorn himself. In 1816 Byron's new publisher obtained an injunction against Cawthorn, preventing him from ever again printing English Bards. Over a century later, renowned bibliographer Thomas James Wise flatly rejected Cawthorn's theory of Irish forgers. "No Irish edition that will fit this date is known," Wise wrote. "There can be but little doubt that the 'information' given by Cawthorn to Byron was invented by him, and was concocted with the object of diverting attention from the spurious editions he was himself producing."
As another bibliographer put it, Cawthorn was "both dishonest and sloppy." To continue reaping profits from Byron's popular work, Cawthorn put the already-printed fifth edition in title pages that said "fourth," and it was likely he that made new editions misleadingly labelled "third"—one copy of which I had in my hands. And the injunction did not stop him. "In 1819 (and perhaps even later)," wrote Wise, "he was still printing and circulating unauthorised editions of the Satire. The laugh was with him after all."
Next: Thomas James Wise
References
"'Let Satire Be My Song': Byron's English Bards, and Scotch Reviewers. Harvard, http://hcl.harvard.edu/libraries/houghton/exhibits/byron/
Byron, George Gordon Byron. English Bards and Scotch Reviewers. James Cawthorn, 1810 [1812-?].
Wise, Thomas James. A Bibliography of the Writings in Verse and Prose of George Gordon Noel, Baron Byron. Dawsons of Pall Mall, 1972.
Byron, George Gordon Byron. The Works of Lord Byron. Edited by Ernest Hartley Coleridge. John Murray, 1905.
MacAlister, J.Y.W., editor. The Library: A Quarterly Review of Bibliography and Library Lore. Kegan Paul, Trench, Trübner and Co., Ltd., 1900.
Randolph, Francis Lewis. Studies for a Byron Bibliography. Sutter House, 1979.