One of the most iconic poems of the holiday season is "A Visit from St. Nicholas," by Clement Clarke Moore, also known as "The Night Before Christmas." And while it is his only notable poem, it is one that has changed the American image of Santa Claus from his appearance to his actions.
Moore was born in New York City, the only child of Reverend Benjamin and Charity Moore. He was educated at home, and attended Columbia College where he received his BA and MA, and finally his LL.D. A deeply religious man he donated a large part of his property to the General Theological Seminary where he taught Oriental and Greek Literature. He wrote on many subjects including, a two volume treatise on the Hebrew language, A Complete Treatise on Merinos and Other Sheep, and a biography George Castriot, Surnamed Scanderbeg, King of Albania. Throughout his life he w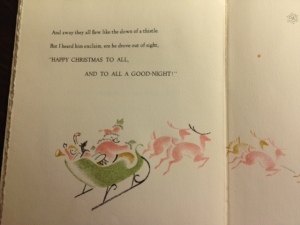 rote poetry which was printed in journals and in the New-York Book of Poetry in 1837. This volume included his "A Visit from St. Nicholas" but it was attributed to anonymous.
Moore had written the verses to entertain his six (eventually nine) children on Christmas Eve. The model for St. Nicholas was apparently a local Dutch villager, with a nod to Washington Irving's Knickerbocker tales. He cleverly has the "jolly old elf" arrive on Christmas Eve to shift the focus away from the religious observances.
He never meant it to be published, but a well-meaning friend sent it to Troy (NY) Sentinel. The poem was picked up by other papers and journals and widely reprinted. It was not until 1844, when Moore published his own collection of Poems and included "A Visit from St. Nicholas" did the world know the true author. Many had tried to claim it before.
The Galvin Rare Book Room has three of Moore's works including a lovely stylized edition of "The Night Before Christmas."