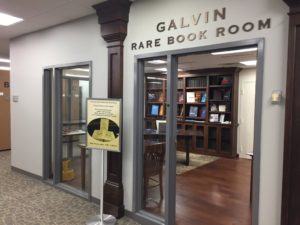 Fall semester 2019 brings some new things to Rare Book & Special Collections.  We are trying out different open hours for research this fall as well as having new ways to schedule materials and appointments and to schedule instruction sessions.
When classes are in session, our Fall 2019 open hours are:
Sundays & Mondays: 2-6pm
Tuesdays & Wednesdays: 11am – 3pm
If you would like to set an appointment outside of those hours or have specific materials you would like us to have ready for your visit, please submit your request through this form.  If you would like to schedule an instruction session or class visit, please submit the request via this form.  Finally, if you are interested in learning more about our Books Arts program or scheduling a consultation or instruction session with our Book Arts Studio director, Jen Thomas, check out the Book Arts page or send a request through this form.
We look forward to working with you this fall!