Katherine Anne Porter was a Pulitzer Prize winning journalist, essayist, short story writer, novelist, and political activist. Her 1962 novel Ship of Fools sold more copies than any other novel that year, but her short stories are what she received the most acclaim for.
Long before all of this, she wrote A Christmas Story, "the true story of an episode in the short life of my niece, Mary Alice…" who died at 5 and a half years old. The story covers the last day Porter spent with her niece, right before Christmas.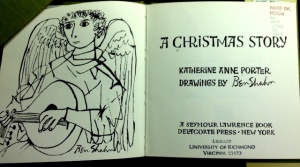 It begins with Mary Alice asking her aunt why they celebrated Christmas. Porter explains with a combination of Biblical and folk stories and records the child's precocious reactions. When they buy a gift for Mary Alice's mother, she says she will "say" it is from Santa.
"You don't believe in Santa anymore?"….."No, I don't," she said…."but
please don't tell my mother, for she still does."
The Galvin Rare Book Room has a lovely copy of this story, illustrated by Ben Shahn, and signed by both Miss Porter and Shahn. (PS3531.O752 C5 1967) Come take a look.